Description
Hikvision ColorVU 2mp Gold Line 2 Camera Package with Smart Motion Detection Notification System – 2 Years Warranty with Installation
Protect what matters most with this Acusense DVR security system from Hikvision. Hikvision's ColorVu Technology helps users protect people and property by capturing high-quality, full-color imaging 24/7 with the same sharp rendering at night time as in daylight IP67-rated weatherproof exteriors to ensure top quality security video year-round. Hikvision's AcuSense technology embeds deep-learning algorithms into video recorders to automatically detect humans and vehicles through real-time video analytics and push instant notifications to users' mobile devices. its own secure local storage, which means there are no monthly fees, and is easily connected to the Hik-Connect app for convenient on-the-go remote connection.
Hikvision ColorVu Technology
With the new ColorVu Technology, Turbo HD cameras with ColorVu render clear images at 0.0005 lux, providing critical surveillance in ultra low-light scenarios. With this technology, cameras can now provide round-the-clock vivid color imaging.
When it comes to ensuring security and safety, seeing every detail is critical – especially in low light conditions.
Hikvision's industry-leading ColorVu technology captures high-quality, full-color video 24/7 which enables businesses and homeowners to protect people and property at night with the same sharp rendering as in daylight.
For a broad range of security scenarios, ColorVu technology empowers a diverse set of products and solutions to meet users' growing needs. Read on to learn more.
The whole scene in vivid color
Hikvision's ColorVu cameras with ColorVu harness pioneering pixel-level image registration technology with Hikvision's image fusion algorithm to stitch together a Wide horizontal field of view, delivering brilliant and seamless panoramas with more lively details. Wide-area security footage helps improve situational awareness and reduces the number of cameras required for comprehensive monitoring, aiding cost efficiency.
Zoom in with vivid color
Varifocal cameras adapt to various scenarios by changing the camera's focal length. Hikvision's Varifocal Cameras with ColorVu are designed with a large, fixed F1.0 aperture, which guarantees image brightness while the camera zooms in or out.
Capture richer, more colorful details
ColorVu-enabled cameras render vivid color images in dim light, even down to 0.0005 lux – that's the same lighting as a moonless, starlit night. This incredible capability to intensify minimal ambient light is achieved through two advanced features:
• F1.0 Super Aperture – Capturing as much light as possible for the sensor
• 1/1.2" Large Sensor – Maximizing the use of available light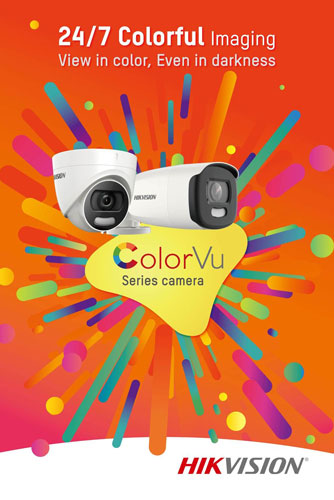 Cameras with ColorVu vs. Conventional cameras
Watch this video to see how round-the-clock performance of ColorVu cameras compares to conventional security cameras.
---
Hikvision DS-2CE10DF3T-F 2 MP ColorVu Fixed Mini Bullet Camera Feature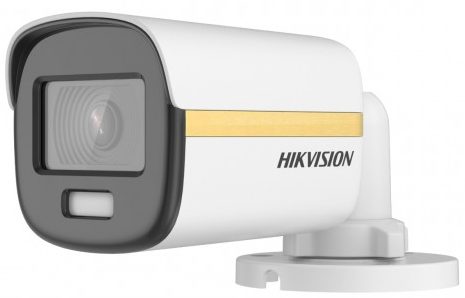 The main reason to purchase a security camera is to capture useful evidence should an incident ever occur on your property. This 2MP camera will do just that. It is capable of recording a pixel resolution of 1920 (H) × 1080 (V) Install these durable 2mp security cameras wherever you need them most – indoors or outdoors.  They are manufactured to be fully weatherproof (rated IP67 – the highest weather rating available), so you can count on all-season security monitoring that never stops working.
Camera Key Feature
High quality imaging with 2 MP, 1920 × 1080 resolution
24/7 color imaging with F1.0 aperture
Clear imaging against strong back light due to 130 dB true WDR technology
3D DNR technology delivers clean and sharp images
2.8 mm, 3.6 mm, 6 mm fixed focal lens
Up to 20 m white light distance for bright night imaging
One port for four switchable signals (TVI/AHD/CVI/CVBS)
Water and dust resistant (IP67)
---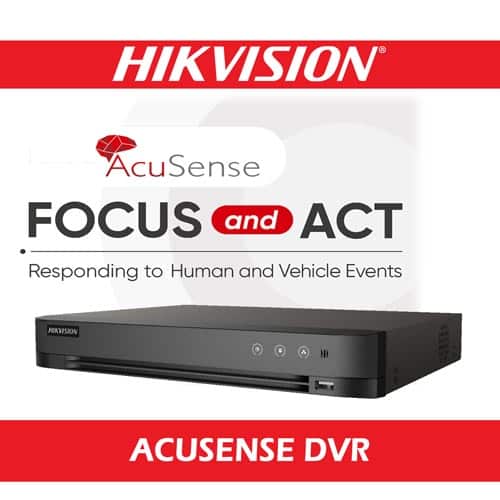 Hikvision AcuSense 1080p 1U H.265 DVR
AcuSense technology helps you take security to the next level with accurate, real-time threat detection that distinguishes people and vehicles from other targets.
False alarm reduction through human and vehicle targetclassification based on deep learning
Deep learning-based motion detection 2.0 for all analog channels
Deep learning-based perimeter protection
Efficient H.265 pro+ compression technology
5 signals input adaptively (HDTVI/AHD/CVI/CVBS/IP)
Network cameras can be connected
Smart Function
• Deep learning-based motion detection, and perimeter protection (line crossing and intrusion detection)
• Support multiple VCA (Video Content Analytics) events for both analog and smart IP cameras
Compression and Recording
• H.265 Pro+ can be enabled to improve encoding efficiency and reduce data storage costs
• Recording at up to 8MP resolution
Storage and Playback
• 4ch / 8ch Synchronous Playback
• Support the third party cloud storage
Faster
• AcuSense technology detects intrusion threats in real time and triggers alerts to users' mobile phones for faster response.
More accurate
• AcuSense technology differentiates people and vehicles from other moving objects, allowing security teams to focus on real threats. High-end camera models with AcuSense also use Hikvision's
More efficient
• AcuSense technology applies labels to recorded video footage with people and vehicles, speeding up video searches, minimizing manual effort, and reducing overall security costs.
Easy to use
• AcuSense-enabled smart cameras are installed quickly and are as easy to configure as conventional security cameras. The technology puts AI security at everyone's disposal.
Person and vehicle smart motion detection
This DVR comes with smart person and vehicle detection on all channels. This helps identify more important objects that enter the camera's field of view. Thanks to this innovative feature, you will only get a push notification to your Hik-Connect app whenever a person or vehicle is detected on your property. This effectively reduces the number of unwanted false alerts caused by moving branches or animals. All recorded motion alerts can easily be reviewed by using the Smart Search function in the Hik-Connect mobile app.
---
This system is designed for use with our innovative, hassle-free Hik-connect for End User app. With Hik-connect, you can quickly and easily view your security system remotely through your smartphone or tablet. You can also program the app to send you motion-activated notifications to your phone to keep you connected to your property at all times. Simply download the free app, scan the QR code on the DVR and your cameras will appear for you to monitor.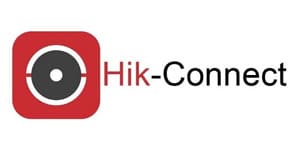 Works With

---
This Complete Hikvision Turbo HD 2MP ColorVU Gold Line Security Camera Package With Smart Motion Detection System includes:
(1) Hikvision DS-7204HQHI-M1/S 4 Channel "Acusense" High Definition Digital Video Recorder (DVR).
(2) Hikvision DS-2CE10DF3T-F 2MP Color VU Turbo HD Indoor/Outdoor Security Camera
(1) 12VDC Centralized Power Supply
(1) Seagate / WD 500GB Hard Disk Drive (HDD).
20 meters 3C2V Coaxial Jelly Field 75 Oms 100% Full Copper Video Cable with Power Cables and hardware Items (Trunking/Conduit/Flex/Screws,etc) with Installation
Installation and Commissioning :
Our technicians make sure to methodically place cameras for maximum coverage as well as program them for optimal usage. After installation is complete, we assess the performance of the surveillance system to ensure it meets your expectations and runs at peak efficiency.
This package includ Video cable, Power Cable, hardware accessories with installation. if exceed cable length specifed on the package, additional pay for Rs. 580.00 (per meter) Cabling will be calculated per meter basis – Include with 3C2V 100% copper 75 Ω coaxial Jelly filled video cable, Kelani/ACL/Sierra twisted twin 0.5mm power cable, pvc casing, upvc conduits, screw and nails, wall plug, blank plate, wire tie, wiring tape, flexible conduit, labour charge.
Internet connection to be provided by customer at installation site
Existing TV or Monitor can be used as display unit
For further information and clarifications on CCTV Package Components please call us on 0778 377990
Warranty & After sale service :
Two (02) years warranty for DVR and Camera's against manufacturing defects.
Two (02) Years One to one replacement warranty for Hard Disk Drive against manufacturing defects.
Lifetime's help desk support – Our operatives will be on hand to provide telephone support to resolve any issues you may be experiencing.
HIKVISION SRI LANKA SECURITY SOLUTION – Office hours:
Monday – Friday: 9.00 AM – 5.00 PM | Saturday: 9.00 AM – 2.00 PM | Sunday/ Poya Day: Closed
---
Hikvision ColorVU 2mp Gold Line 2 Camera Package with Smart Motion Detection Notification System – 2 Years Warranty with Installation