Description
Hikvision AX Pro Wireless Alarm System DS-PWA64-Kit-WB Sale in Sri Lanka Best Price
Why choose AX PRO?
Wireless and hassle-free, the AX PRO system is the perfect combination of efficiency, reliability and innovation that guarantees accurate detection without wires and without problems.
Visible alarms for real assurance
With AX PRO, home- or business-owners can verify alarms by watching video clips or GIF imaging when they are away from their property, staying informed in real time and resting easy with real assurance.
Multi-dimensional detection for comprehensive protection
Along with instant visual verification for all-around intrusion protection, the AX PRO helps keep an eye on every corner of your place, indoors and out, including early warning of smoke and fire, water or gas leaks, and more. The sleek, modern design suits virtually any home or office environment.
Running the AX PRO system is a breeze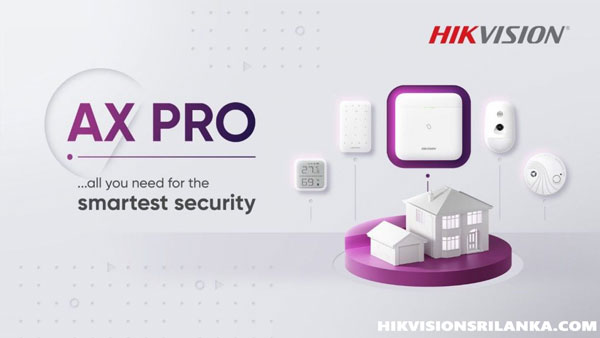 The AX PRO System is designed to be easy to install, to use, and to maintain. The extended lifespan of the components and longer battery life deliver the best experience for both installers and end users
---
AX PRO supports Wi-Fi, TCP/IP, and GPRS/3G/4G communication methods. It also supports Hik-ProConnect,
Hik-Connect, Hik IP Receiver, Hik IP Receiver Pro and Hik-Central, which is applicable to the scenarios of market,
store, house, factory, warehouse, office, etc.
AX PRO Kit (433MHz)
· DS-PWA64-L-WB x 1
· DS-PKF1-WB x 1
· DS-PDP15P-EG2-WB x 1
· DS-PDMC-EG2-WB x 1
Key Feature
● TCP/IP, Wi-Fi, and GPRS/3G/4G network
● New generation wireless protocol: Tri-X/Cam-X
● Long RF transmission distance
● Two-way communication with AES-128 encryption
● Connects up to 96 wireless zones/outputs (including 48 PIRCAMs), 16 wired zones, 2 wired outputs, 48 wireless keyfobs, 4
repeaters, 6 sounders, 8 tag readers & keypads.
The capability varies according to the model of device.
● Supports up to 48 network users, including 1 installer, 1 administrator, and 46 normal users
● Voice prompt
● Configuration via Web client, mobile client, and Convergence Cloud
● Hik-Connect and Hik-ProConnect configuration depends on the user access level
● Pushes alarm notification via messages or phone calls
● Views live videos from Hik-Connect
● Alarm video clips via emails and APP
● Uploads alarm reports to ARC
● Supports LED indicator to indicates system status
● 4520 mAh lithium backup battery or 12v 7Ah storage battery depends on model of device
● SIA-DC09 protocol, and supports both Contact ID and SIA data format
● Supports Hik-IP Receiver and Hik-IP Receiver Pro for ARC communication