Description
HIKVISION DS-KIS204 Video Door Phone System With Support Picture Storage – Best Price in Sri Lanka
DS-KIS204 is a 1-subscriber Hikvision video intercom system dedicated for single-family homes. It consists of 7″ DS-KH2220-S indoor station/monitor with a resolution of 800 x 600 px and DS-KB2411-IM gate/door station equipped with a color pinhole camera with a resolution of 720 x 576 px. The indoor monitor is made in TFT LCD technology and supports image capture (Max. 200) feature and Support up to 2 door stations The monitor can cooperate with CCTV analog camera operating in CVBS standard and be used for displaying the video from the camera and the door station(s) and for control of the electric strike. The external/outdoor gate/door station is a panel made of aluminum alloy, equipped with a relay dedicated to control the electric strike, pinhole camera and IR illumination with a range of 2 m, ensuring correct visibility of the caller in the absence of lighting. Thanks to small dimensions, the panel can be aesthetically mounted even on a narrow metal post. The whole set can be extended with additional 2 monitors and additional gate/door station. The video door phone uses 4-wire system.
,
Key features:
Supports image capture (Max. 200) and overwrite when exceed 200
Supports captured image playback
Image Resolution 720 x 576 px,
gate/door station with a color pinhole camera (720 x 576 px),
relay output for an electric door strike,
7″ color TFT LCD monitor ( 800 x 480 px),
one monitor can support 2 door stations and 1 CCTV camera (CVBS),
possibility of using up to 3 monitors supporting 2 door stations and 3 CVBS cameras,
4-wire system,
power: 12 VDC.
Day and Night functionality – colour during daytime and automatically switches over to night vision mode
Infrared Range up to 2 meters – gives an exceptional night vision
Hands-free video intercom communication
Support monitoring the station and the external analog camera
remote unlocking
Convenient installation
A suitable power supply should be bought separately. We recommend the SMPS AC/DC Adapter 12VDC/5A M1825.
Package Includes :
1 X Indoor Station (DS-KH2220) 7″ TFT Display
1 X Door Station (DS-KB2411-IM) Outdoor Station
1 X 12V Power Adapter
1 X User Manual
1 X Connect wires with accessories
Installation and Commissioning :
This package not included installation & commissioning charges, Cabling will be calculated per meter basis Include with CAT 6 Network cable, pvc casing, upvc conduits, screw and nails, wall plug, blank plate, wire tie, wiring tape, flexible conduit,etc. and Device Installation charges will be added.
For further information and clarifications on this Package Components please call us on 0112 983817 or 0778 377990
Warranty & After sale service :
Two (02) years warranty for against manufacturing defects.
HIKVISION SRI LANKA SECURITY SOLUTION  –  Working hours:
Monday – Friday: 9.00 AM – 6.00 PM | Saturday: 9.00 AM – 2.00 PM | Sunday/ Poya Day: close
PRODUCT SPECIFICATION – DS-KIS204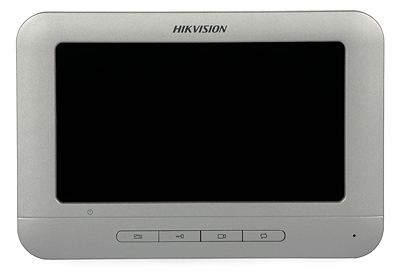 Front view of the DS-KH2220-S indoor station/monitor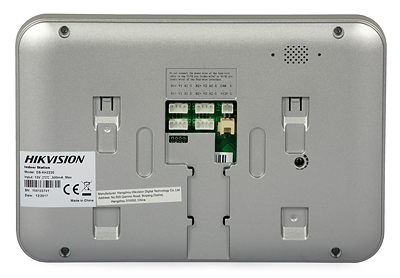 Rear view of the monitor
Views of the DS-KB2411-IM gate/door station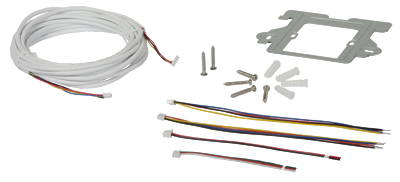 The included accessories
Connections