Description
Best Hikvision 5MP 2 CCTV Surveillance Package with Acusense 4K 4CH DVR Sale, 60ft Night Vision With Installation – Best Price in Sri Lanka
Featuring industry-leading (5 megapixel) resolution recording, this security camera system from Hikvision will bring a whole new level of detail to your monitoring. It includes an Hikvision Acusense Digital Video Recorder (DVR) and Hikvision Turbo HD (5 Megapixels) Bullet security cameras. Whether you are looking to protect your home or small business, this powerful security camera system will help you secure the things that matter most.
Smart Featuring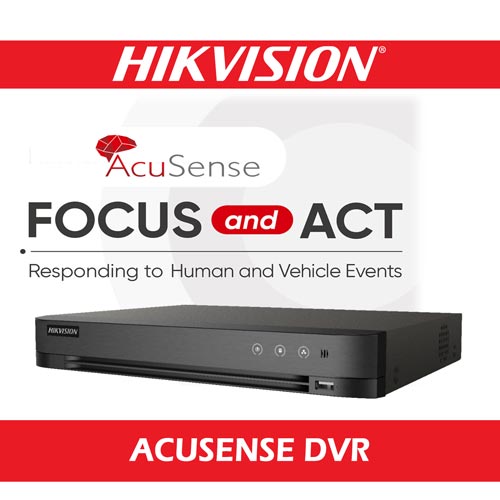 Hikvision AcuSense 1U H.265 DVR
AcuSense technology helps you take security to the next level with accurate, real-time threat detection that distinguishes people and vehicles from other targets.
False alarm reduction through human and vehicle targetclassification based on deep learning
Deep learning-based motion detection 2.0 for all analog channels
Deep learning-based perimeter protection
Efficient H.265 pro+ compression technology
5 signals input adaptively (HDTVI/AHD/CVI/CVBS/IP)
Network cameras can be connected
Smart Function
• Deep learning-based motion detection, and perimeter protection (line crossing and intrusion detection)
• Support multiple VCA (Video Content Analytics) events for both analog and smart IP cameras
Compression and Recording
• H.265 Pro+ can be enabled to improve encoding efficiency and reduce data storage costs
• Recording at up to 8MP resolution
Storage and Playback
• 4ch / 8ch Synchronous Playback
• Support the third party cloud storage
Faster
• AcuSense technology detects intrusion threats in real time and triggers alerts to users' mobile phones for faster response.
More accurate
• AcuSense technology differentiates people and vehicles from other moving objects, allowing security teams to focus on real threats. High-end camera models with AcuSense also use Hikvision's
More efficient
• AcuSense technology applies labels to recorded video footage with people and vehicles, speeding up video searches, minimizing manual effort, and reducing overall security costs.
Easy to use
• AcuSense-enabled smart cameras are installed quickly and are as easy to configure as conventional security cameras. The technology puts AI security at everyone's disposal.
Person and vehicle smart motion detection
This DVR comes with smart person and vehicle detection on all channels. This helps identify more important objects that enter the camera's field of view. Thanks to this innovative feature, you will only get a push notification to your Hik-Connect app whenever a person or vehicle is detected on your property. This effectively reduces the number of unwanted false alerts caused by moving branches or animals. All recorded motion alerts can easily be reviewed by using the Smart Search function in the Hik-Connect mobile app.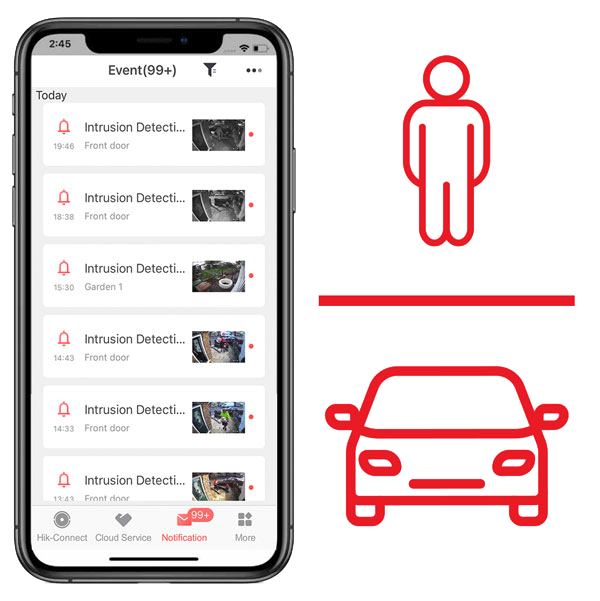 The DS-2CE16H0T-ITPF security camera uses an advanced 5 megapixel image sensor. This allows for high quality recording capabilities. If needed, an analog HD security camera such as this can be installed up to 800 feet away from the DVR – making it ideal for monitoring large properties.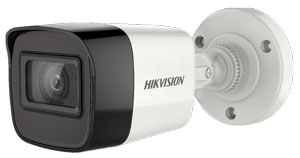 Perfect for indoor or outdoor installations
This Bullet security camera is rated IP66, which means that it can endure through virtually all weather conditions. It can even continue to operate in extreme temperatures as low as -22°F (-30°C). It also has exceptional vandal resistance thanks to its sturdy exterior, making this bullet camera a reliable choice for year-round protection.
---
This system is designed for use with our innovative, hassle-free Hik-connect for End User app. With Hik-connect, you can quickly and easily view your security system remotely through your smartphone or tablet. You can also program the app to send you motion-activated notifications to your phone to keep you connected to your property at all times. Simply download the free app, scan the QR code on the DVR and your cameras will appear for you to monitor.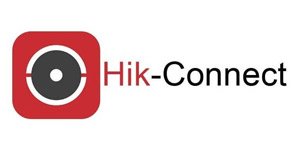 Works With

---
This Complete Hikvision Turbo HD 5MP Color VU Security Camera System includes:
Package Includes,

4 Channel Turbo HD Acusense DVR Model-DS-7204HUHI-M1/S– 1 Nos
5MP Turbo HD Cameras Model-DS-2CE16H0T-ITPF– 2 Nos
500GB Hard Disk Drive – 1 Nos
12V-4Amp Power Supply- 1 Nos
20 meters 3C2V Video Cable with Power Cables and hardware Items (Trunking/Conduit/Flex/Screws,etc) for 20m Installation
Installation and Commissioning :
Our technicians make sure to methodically place cameras for maximum coverage as well as program them for optimal usage. After installation is complete, we assess the performance of the surveillance system to ensure it meets your expectations and runs at peak efficiency.
This package includ Video cable, Power Cable, hardware accessories with installation. if exceed cable length specifed on the package, additional pay for Rs. 580.00 (per meter) Cabling will be calculated per meter basis – Include with 3C2V 100% copper 75 Ω coaxial Jelly filled video cable, Kelani/ACL/Sierra twisted twin 0.5mm power cable, pvc casing, upvc conduits, screw and nails, wall plug, blank plate, wire tie, wiring tape, flexible conduit, labour charge.
Internet connection to be provided by customer at installation site
Existing TV or Monitor can be used as display unit
For further information and clarifications on CCTV Package Components please call us on 0778 377990
Warranty & After sale service :
Two (02) years warranty for DVR and Camera's against manufacturing defects.
Two (02) Years One to one replacement warranty for Hard Disk Drive against manufacturing defects.
Lifetime's help desk support – Our operatives will be on hand to provide telephone support to resolve any issues you may be experiencing.
HIKVISION SRI LANKA SECURITY SOLUTION – Office hours:
Monday – Friday: 9.00 AM – 5.00 PM | Saturday: 9.00 AM – 2.00 PM | Sunday/ Poya Day: Closed
---
Best Hikvision 5MP 2 CCTV Surveillance Package with Acusense 4K Turbo HD 4CH DVR Sale, 60ft Night Vision With Installation – Best Price in Sri Lanka