Description
7 Camera Full Day Color Night Vision 2MP Hikvision CCTV Package Sri Lanka best price at hikvision sri lanka security solution
Package Includes,
01 X Hikvision 8 Channel 1080P Turbo HD DVR Model-DS-7108HQHI-K1 with 2 Years Warranty
07 X Hikvision 2MP Turbo HD Outdoor Color VU Cameras Model – DS-2CE10DF0T-PF with 2 Years Warranty
01 X 1TB WD / Seagate Hard Disk Drive
01 X 12V-10 Amp Power Supply
70 meters 3C2V Coaxial Jelly Field 75 Oms 100% Full Copper Video Cable with Power Cables and hardware Items (Trunking/Conduit/Flex/Screws,etc) with Installation
Installation and Commissioning :
Our technicians make sure to methodically place cameras for maximum coverage as well as program them for optimal usage. After installation is complete, we assess the performance of the surveillance system to ensure it meets your expectations and runs at peak efficiency.
This package includ Video cable, Power Cable, hardware accessories with installation. if exceed cable length specifed on the package, additional pay for Rs. 580.00 (per meter) Cabling will be calculated per meter basis – Include with 3C2V 100% copper 75 Ω coaxial Jelly filled video cable, Kelani/ACL/Sierra twisted twin 0.5mm power cable, pvc casing, upvc conduits, screw and nails, wall plug, blank plate, wire tie, wiring tape, flexible conduit, labour charge.
Internet connection to be provided by customer at installation site
Existing TV or Monitor can be used as display unit
For further information and clarifications on CCTV Package Components please call us on 0778 377990
Warranty & After sale service :
Two (02) years warranty for DVR and Camera's against manufacturing defects.
Two (02) Years One to one replacement warranty for Hard Disk Drive against manufacturing defects.
Lifetime's help desk support – Our operatives will be on hand to provide telephone support to resolve any issues you may be experiencing.
HIKVISION SRI LANKA SECURITY SOLUTION – Office hours:
Monday – Friday: 9.00 AM – 5.00 PM | Saturday: 9.00 AM – 2.00 PM | Sunday/ Poya Day: Closed
DVR Key features:
• Support H.264 Pro+/H.264 video compression
• Support HDTVI/AHD/CVI/CVBS/IP video input
• Audio via coaxial cable
• Max. 6/12/24 IP cameras input
• Max. 800 m for 1080p and 1200 m for 720p HDTVI signal transmission
• Up to 6TB capacity per HDD
HIKVISION DS-7108HQHI-K1 DVR SPECIFICATIONS
Video/Audio Input
Audio Input:
1-ch
Video Compression:
H.264,H.264+
Analog and HD-TVI video input:
8-ch BNC interface (1.0Vp-p, 75 Ω),supporting coaxitron connection
Video Input Interface:
BNC (1.0 Vp-p, 75Ω)
Audio Compression:
G.711u
Audio Input Interface:
RCA (2.0 Vp-p, 1 kΩ)
Two-way Audio:
1-ch, RCA (2.0 Vp-p, 1 KΩ) (using audio input)
Video/Audio Output
HDMI/VGA Output:
1920 × 1080 / 60 Hz,1280 × 1024 / 60 Hz, 1280 × 720 / 60 Hz, 1024 × 768 / 60 Hz
Encoding resolution:
When 1080p lite mode not enabled: 720p/WD1/4CIF/VGA/CIF
When 1080p lite mode enabled: 1080p lite/HD 720p lite/WD1/4CIF/VGA/CIF
Frame Rate:
Main stream:
When 1080p lite mode enabled:
1080p lite/HD 720p lite/WD1/4CIF/VGA@12fps; CIF@25fps (P)/30fps (N)
When 1080p lite mode not enabled:
For 720p stream access:
720p/WD1/4CIF/VGA@12fps; CIF@25fps (P)/30fps (N)
For SD stream access:
WD1/4CIF/VGA/CIF@25fps (P)/30fps (N)
Sub-stream:
CIF/QVGA/QCIF@25fps (P)/30fps (N)
Video Bit Rate:
32 Kbps ~ 4 Mbps
Stream Type:
Video/Video&Audio
Audio Output:
1-ch RCA(Linear, 1kΩ)
Audio Bit Rate:
64kbps
Dual Stream:
Support
Synchronous Playback:
8-ch
Network management
Remote connections:
32
Network protocols:
TCP/IP, PPPoE, DHCP, Hik-Connect, DNS, DDNS, NTP, SADP, SMTP, NFS, iSCSI,
UPnP™, HTTPS
Hard Disk Driver
Interface Type:
1 SATA Interface
Capacity:
Up to 6 TB capacity for each disk
External Interface
Network Interface:
1; 10M / 100M self-adaptive Ethernet interface
USB Interface:
2 USB 2.0 Interfaces
General
Power Supply:
12V DC
Consumption:
≤ 8W
Working Temperature:
-10 oC ~+55 oC (14 oF ~ 131 oF)
Working Humidity:
10% ~ 90%
Dimensions:
200 × 200 × 45mm (7.9 × 7.9 × 1.8 inch)
Weight:
≤ 0.8 kg / 1.8 lb(without hard disks)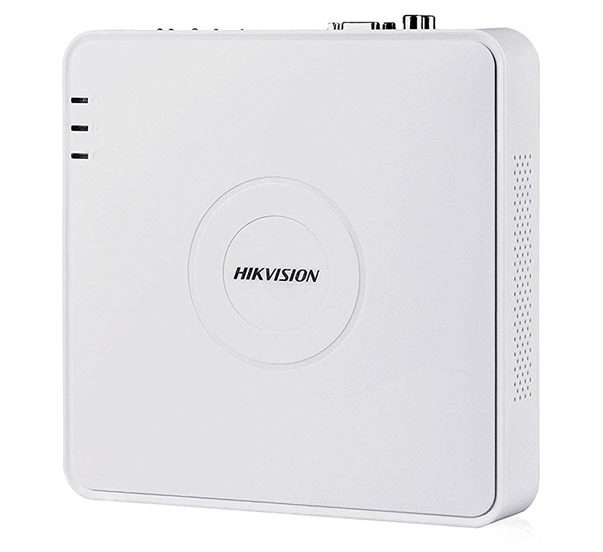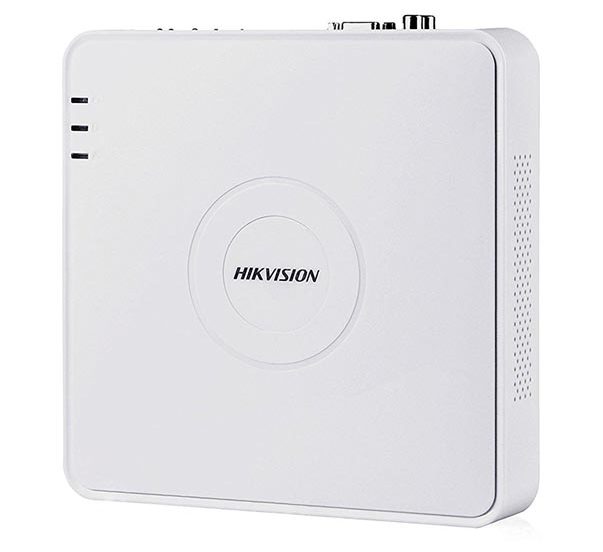 Hikvision DVR Works With


Camera Key features:
DS-2CE10DFT-F 2MP Full Time Color Bullet Camera
The Hikvision DS-2CE10DFT-F 2 MP Outdoor Full Time Color Bullet Camera provides high definition analog output. Turbo HD means that the analog signal can be sent over existing coaxial cable, eliminating the need to run new cables for high definition video. The ColorVu series of cameras is equipped with a white light that has a range of 65 feet (20 meters). The 3.6 mm and 6 mm fixed lens options are optimized for viewing angles that fit any situation. 120dB True WDR (Wide Dynamic Range) ensures that ideal images are captured regardless of the lighting conditions.
• 2 Megapixel high-performance CMOS
• Analog HD output, up to 1080P resolution
• Full time color
• OSD menu, 3D DNR
• True WDR, up to 130dB
• Up to 20 m white light distance
• IP67
• Up the Coax(HIKVISION-C)
• 4 in 1 video output (switchable TVI/AHD/CVI/CVBS)
Camera Specification:
Camera
Image Sensor:
2MP CMOS Image Sensor
Signal System:
PAL/NTSC
Effective Pixels:
1920(H)*1080(V)
Shutter Time:
1/25(1/30) s to 1/50,000 s
Lens Mount:
M16
Adjustment Range:
Pan: 0° to 360°; Tilt: 0° to 180°; Rotate: 0° to 360°
Day& Night:
Color
Video Frame Rate:
1080p@25fps/1080p@30fps
HD Video Output:
1 Analog HD output
Synchronization:
Internal Synchronization
Up the Coax:
Support
Menu
White Balance:
Auto/MWB
BLC:
Support
AGC:
Support
General
White Light:
Up to 20 m
Operating Conditions:
-40 °C – 60 °C (-40 °F – 140 °F)
Humidity 90% or less (non-condensing)
Power Supply:
12 VDC ±25% *You are recommended to use one power adapter to supply the power for one camera.
Weather Proof:
IP67
Communication :
Up the coax
Protocol: HIKVISION-C(Coaxitron)
Dimension:
181.4 mm × 70 mm × 68 mm (7.14″ × 2.75″ × 2.68″)
Weight:
Approx. 390 g (0.86 lb.)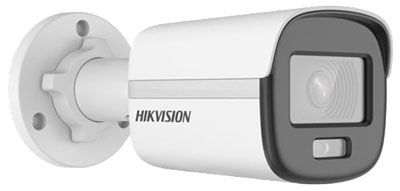 Reliable security grade hard drive
DVRs such as this are capable of working 24/7 without a break. Thankfully, so is the 1TB hard drive within it. we uses security certified hard drives that are manufactured specifically to meet the high workload demands of continuous security monitoring. This means that you can rely on this professional grade hard drive to safely store weeks (or even months) of security footage. It is also possible to manually upgrade the hard drive within the DVR to a hard drive up to 6TB in size.